Top Law Colleges in India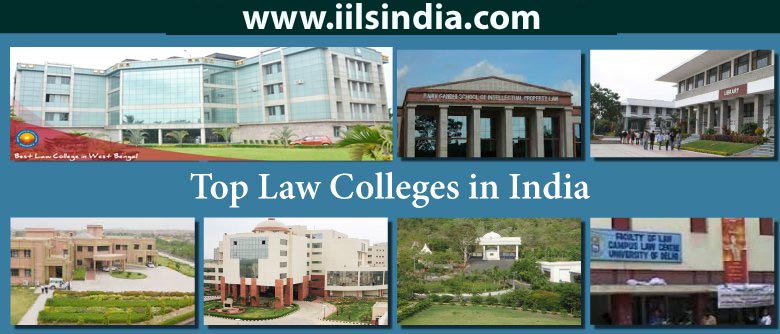 On your journey to ensure admission to top Law College in India, deciding where to apply and where to ultimately attend are some of the most important decisions that we will make. While a college's reputation and ranking certainly should represent significant components in your decision-making process—especially with today's job market—they cannot be the only considerations.
Here are some of the key factors to help us choose the right law college:
Location: We should try to decide where we want to live after Law College and aim to attend a college in that same geographic area. This will give us access to many more job opportunities, as the majority of law firms recruiting at that location will be from the local college only.
We will also have a much larger alumni network at our disposal if we remain in the same region. For example, if we want to live in West Bengal or North Bengal but choose go to law school in Chicago, We will have dozens of connections in Chicago after graduation but likely very few in the West Bengal or North Bengal.
Specialized programs: If we already know what kind of law we want to practice, find a college that specializes in that subfield. If we know that we want to pursue a career in intellectual property law, for example, we should seek out college with exceptional intellectual property law programs. Likewise if we want to choose to study company law or tax law then getting admission in BBA.LL.B. and BCom.LL.B in West Bengal or North Bengal area then Indian Institute of Legal Studies ,Dagapur ,Siliguri, Darjeeling would be a good option , www.iilsindia.com
Even if these colleges are slightly lower in the overall national rankings, they will likely be the better fit for us. Our commitment to focus our law school education early on will likely impress future employers and can thus be very useful in helping to secure first job.
Campus: We can only learn so much from glossy brochures and flashy websites. Visit the college which we are considering for admission to discover what the culture and community is really like on each campus.
Talk to students to find out more about the environment. How competitive is it? What is the social scene on weekends? You should also explore housing facilities, looking into on-campus and off-campus options.
Lastly, experience some of the extracurricular activities. While you should be able to easily find a list of student organizations on each law college's website, actually attending a meeting of a group in which we're interested will be much more revealing and informative.
Opportunities: In the current economy, it's essential to obtain pragmatic, hands-on experience to supplement the classroom education. For each of the schools we are seriously considering, research the academic and professional opportunities offered outside the classroom. These might include clinics, journals, or externships (with firms, companies, or judges) that you can complete during the college year.
Also, conduct careful due diligence regarding the career services offices at each college to determine how robust they are, how much personalized assistance we can expect to receive, and how much of the career services staff is dedicated to law firms versus the public sector versus the nonprofit sector. Ideally, you will choose to attend a college where a substantial portion of the career services staff is focused on your particular areas of interest.
Cost: Graduating from law school with a large debt load is frightening, and can affect our choices for years to come. If we are considering law college that will leave us with very different amounts of debt (either because of tuition differentials or scholarships we are offered), figure out what our monthly loan payments are likely to be after graduation in each case. Don't overestimate the likelihood that you will receive one of the sky-high starting salaries you may have read about.
If one is being offered a scholarship, pay attention to the details. Under what circumstances will we be eligible to retain or lose your scholarship? Many colleges impose a law college grade point average requirement for retention, but there can be significant differences in where that level is set. We might prefer a lower scholarship that we are more likely to keep for all five or three years than a slightly higher scholarship that we have a better chance of losing after a year.
Which Law course should be chosen?
We can either pick a three-year LLB program after our graduation or if we have qualified 10+2/higher secondary school examination/intermediate examination or equivalent and have an urge for legal field, we can look in for the five year integrated BA LLB course or BBA LLB course and BCom LLB course which is being offered only in Indian Institute of Legal Studies Law College, Dagapur, Siliguri (IILS) in eastern India.
What are the Law exams we need to take?
Most of the colleges in India go for admission based on merit list according to the percentage of marks obtained in their 10+2/higher secondary school examination/intermediate examination or equivalent like in Indian Institute of Legal Studies Law College, Dagapur, Siliguri (IILS).
The interested candidates who wish to take up Law as career may also need to qualify any of the entrance examinations listed below:
CLAT- Common Law Admission Test, commonly known as CLAT is the national level law entrance exam. We can take this admission test to secure a seat in any of the 14 National Law Universities (NLUs), TNNLS Tiruchirappalli, DSNLU Visakhapatnam, Nirma Ahmedabad etc.
LSAT- Law School Admission Test, commonly known as LSAT is a standardized test of reading and verbal reasoning skills designed by the

USA–based Law School Admission Council (LSAC) for use by law schools in India.

DU LLB/LLM – Faculty of Law, University of Delhi conducts a separate law entrance exam for admissions to various law courses namely LLB and LLM courses.
SET Symbiosis- Symbiosis Entrance Test commonly known as SET is a common written test conducted for taking admission to undergraduate law programs offered by various institutes under Symbiosis International University.
ULSAT- UPES Law Studies Aptitude Test commonly known as ULSAT is conducted by the University of Petroleum and Energy Studies (UPES). The competitive entrance test is conducted to grant admission to Bachelor of Laws (B.A. LLB) and LLB in Corporate Laws, Cyber Laws and Intellectual Property Rights.
From where should we pursue Law?
A list of prominent Law Institutes, from where we can pursue our law course as given below:
National Law University, Delhi
National Law School of India University, Bangalore (NLSIU)
NALSAR University of Law, Hyderabad (NALSAR)
National Law Institute University, Bhopal (NLIU)
The West Bengal National University of Juridical Sciences, Kolkata (WBNUJS)
National Law University, Jodhpur (NLUJ)
Hidayatullah National Law University, Raipur (HNLU)
Gujarat National Law University, Gandhinagar (GNLU)
Ram Manohar Lohiya National Law University, Lucknow (RMLNLU)
Rajiv Gandhi National University of Law, Patiala (RGNUL)
Chanakya National Law University, Patna (CNLU)
National University of Advanced Legal Studies, Kochi (NUALS)
National Law University, Orissa (NLUO)
National University of Study & Research in Law, Ranchi (NUSRL)
National Law University & Judicial Academy, Assam (NLUJA)
Faculty of Law, University of Delhi
Government Law College, Mumbai
Amity Law College
Indian Institute of Legal Studies Law College, Dagapur, Siliguri (IILS)
Ambedkar Law University, Chennai
Symbiosis Society's Law College, Pune
What fees we have to remit?
If we are able to make in NLUs, it will take between Rupees One Lakh Thirty-five Thousands and Rupees One Lakh Fifty Thousand (Rs.1,35,000-1,50,000) for the LLM Courses. However if you choose for the BA LLB courses it make take you between Rupees One Lakh Seventy Thousand to Rupees One Lakh Eighty-five Thousand (Rs. 1,70,000- Rs. 1,85,000). The fees differ very much as per the institution. If you are able to secure a position in DU LLB or LLM Course, you need to deposit around Rupees Four Thousand Five Hundred or Rupees Five Thousand Five Hundred. All the fees mentioned here are deposited annually. In Indian Institute of Legal Studies one of the top law colleges in India in the eastern part of the country is approx Rs.22, 000/- per semester.
Please consult the institutions' website for particular fees structure.
What return shall we get?
We need to take this career as a mission. The career is a promising one and will fetch us good fame, if we have it in us. The course will help us to groom, sharpen our communication skills, drive us to think logically and put our points rationally. Since it's an honorable career, it will surely return us a promising future. Do not look at Law as a means for making money. Look at law as an instrument for securing justice to people. Engage in issues of public interest. One of the great things of being a public interest lawyer is that you come to learn about a large number of important public issues from the persons who are experts in the field on a one-to-one basis, something you could never do otherwise. It's a very rich and rewarding experience.
How much shall we earn?
Initially we can make in Rupees Fifteen Thousand when we join in any corporate law firm or litigations. However we have heard about some of the professional advocates who charge Rupees Five Lakhs to Rupees One Crore per court appearance.
Irrespective of all these, it purely depends on the factors like reputation, case handling, expertise, etc that how much you will be able to earn.
Are there any special Law traits?
There are not as such special traits. These are the skills which we will develop as you grow up with the course in due course of time.
However a good lawyer must possess the following:
Quick responsiveness
Good orator
Keen listener
Flexible but attentive mind
Out of the hat thinking ability
Logical reasoning capability
Patience
Presentable communication skills
It is the respected and promising future, if we are able to keep it up with our devoting attitude.
Image: wikimedia.org
Comments
comments