NOTA! Right to vote includes right not to vote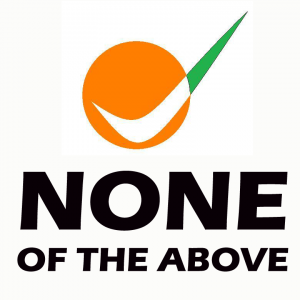 Indian democracy is the largest democracy in the world. Democracy is invigorated by an effective process of Election. The election process in India is the biggest and most complex exercise of voting rights in the world. In the recent past quite a few developments on the electoral laws has changed the scenario altogether. One of them is the issue of NOTA (None Of The Above). In 2013, the Supreme Court in the case of People's Union for Civil Liberties V. Union of India, popularly known as the NOTA case, ruled that EVMs must now include the NOTA button in order to upload voter's right to secrecy which will enable them to exercise their right not to vote for a particular candidate. The Supreme Court felt that this would contribute to cleansing politics and the political leadership would formally know that there are people unhappy with their choice of candidates. The logic is simple; NOTA will build moral pressure on political parties and to bring about a rethink on their choice of candidates. This would finally put an end to criminalisation of politics. Thus, it ensures right to vote includes right not to vote.
** Blog post contributed by Mr. Indranath Dey, IILS.
Comments
comments