Responsible eco tourism practices for protecting bio diversity in the National Parks of North Bengal – Need of the hour*
North Bengal, which is the northern region of the state of West Bengal, is blessed with pristine natural beauty. There are many mountains, lush and green tea gardens, streams, forests and indigenous communities and tribes adding to the rich bio diversity of the region. This makes North Bengal a suitable destination for eco tourism. Every year, thousands of tourists are attracted to the several places of tourist interests that includes the famous hill station of Darjeeling and the National Parks. There are two important National Parks in North Bengal and they are the Gorumara National Park and the Jaldapara National Park.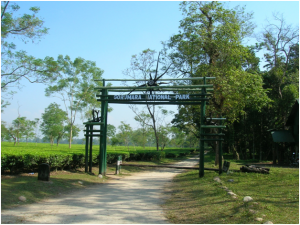 A view of the Gorumara National Park.
Tourism, which plays a significant role for the economy of North Bengal, is having an adverse effect on the rich bio diversity of the National Parks. The National Parks are protected areas to conserve the rich bio diversity of the region. Unfortunately, due to narrow commercial motives, many private investors have recklessly built resorts and staying places in and around the National Parks, flouting many environmental norms.Moreover, people who visit the tourist destinations are found to cause damage to the sensitive ecology of the region by leaving behind plastic and other non bio degradable things, urinating in the open, leaving behind waste materials after picnic, etc. Moreover, due to the large number of tourists visiting every year, the existing provisions for tourist hospitality is stretched to the limit.
Therefore, in order to protect the bio diversity of the National Parks, it is necessary to create awareness among the tourists to desist from causing any damage to the environment, restrain the private investors from reckless commercial exploitation of the National Parks and sensitize the local people about safe environmental practices.
*The author, Mr. Amit Kumar Dutta, Assistant Professor of Management at Indian Institute of Legal Studies ( IILS ), Siliguri can be reached through e – mail amitdutta02@gmail.com
Image Credit: Google
Post Contributed by:
Amit Kumar Dutta
Assistant Professor of Management at IILS,Siliguri
Comments
comments