THE RIGHT TO CONSTITUTIONAL REMEDIES: HABEAS CORPUS
The writ of Habeas Corpus is a process by which an individual who has been deprived of his personal liberty by an executive act, may have the validity of such an act tested before a superior court. Habeas Corpus is thus a bulwark of personal liberty. The writ is in the nature of an order calling upon the person by whom a prisoner is alleged to be kept in confinement to bring such person before the court to let the court know on what ground the prisoner has been confined and to set him free if there is no legal justification for such imprisonment.[1]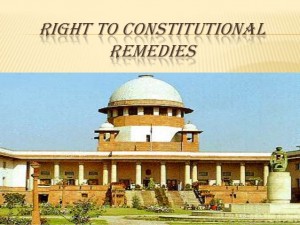 The phrase 'Habeas Corpus' means 'have the body'. The principal aim of this is to provide for a swift judicial review of alleged unlawful restraint on liberty.[2] The writ of Habeas Corpus has been described as 'a great constitutional privilege'.[3]
An application for habeas corpus can be made by any person on behalf of the prisoner or the prisoner himself under Article 32 or Article 226 of the Constitution of India.
Thus, the court has allowed the use of writ for protecting the various personal liberties which are guaranteed to the arrested persons or prisoners under the law and the Constitution.[4]
[1] STATE OF BIHAR V. KAMESHWAR PRASAD, AIR 1965 SC 575 (577)
[2] CARAFER V. LAVALEE, 391 US 234
[3] GHULAM SARVAR V. UNION OF INDIA, AIR 1967 SC 1335
[4] SUNIL BATRA V. DELHI ADM., AIR 1978 SC 1675
Image Credit: slideshare.net
Post Contributed By:
Souradeep Rakshit
Asst. Prof. of Law
IILS, Dagapur
Comments
comments