SECTION 497 OF THE INDIAN PENAL CODE: A CRITICAL OVERVIEW
Section 497 IPC  states, whoever has sexual intercourse with a person who is and whom he knows or has reason to believe to be the wife of another man, without the consent or connivance of that man, such sexual intercourse not amounting to the offence of rape, is guilty of the offence of adultery, and shall be a punishable  offence. However, in such cases, the wife shall not be punished.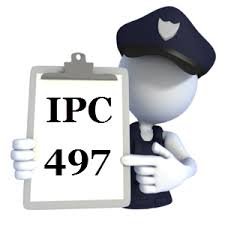 Adultery is an offence committed by a man against a husband in respect of his wife. Hence, it gives a right to the husband to sue the wrongdoer. But specifically stated by the statute, the wife is not liable for the offence however she had an equal involvement in it. The offence is not a rape, which also makes it clear that the wife had the will and voluntary consent to such sexual intercourse.
This gives rise to the major criticism that how can only a man be made liable for such an offence. Therefore, it is largely felt that the wives are escaping from the penalty of the offence instead of being a consenting party to it. Hence, it is high time that the involved women should also be brought within the purview of section 497 and punished as an abettor to the crime under section 108 of IPC. Thus, the existing law glorifies nothing but gender bias and needs to be amended with immediate effect.
Image credit: indianpenalcode.in
Post contributed By:
Souradeep Rakshit
Asst. Prof. of Law
IILS, Dagapur
Comments
comments