"An Analysis of the Civil Liability for Nuclear Damage Bill, 2010"
This is in-fact one of the last steps needed to activate the Indo-U.S. Civilian Nuclear Agreement, 2008 as the US nuclear reactor manufacturing companies require to know the provisions relating to the Liability of the parties, in case of a nuclear accident. The Bill, in the present form, is contained in 28 pages. It has 7 chapters constituted of 49 clauses and also 'statement of objects and reasons' and 'notes on clauses' following plus two memoranda. The government spokesperson had stated that various reputable international suppliers i.e. from France, Russia, U.S. etc, require India to enact a civil liability regime based on established international principle. So, in order to meet this requirement, it is necessary for India to enact a Nuclear Liability Act. India also has to become a signatory to a convention on nuclear liability so as to declare that it complies with the established international practice on the same. Even the Statement of Objects and Reasons of the Bill states that the Bill is meant to facilitate India's entry into an international nuclear liability regime. It explicitly states that India intends to join the Convention on Supplementary Compensation for Nuclear Damage i.e. CSC, which was adopted in 1997.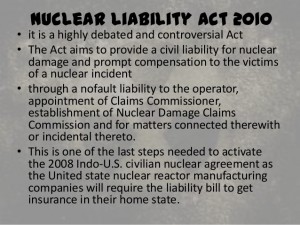 The UPA government has argued that it would provide India access to an international fund to compensate victims of nuclear accidents, for which India too has to make its own contribution. But the opposition party contends that the CSC has not yet come into force since it requires the ratification of at least 5 more states with a minimum of 4,00,000 MW of installed nuclear capacity (as provided in Article XX of the CSC ). So, India joining the CSC will not make the convention operational – it does not have enough installed capacity to cross this number of 4,00,000 MW capacity. Instead of asserting on joining CSC, it should become a signatory of any of the other conventions on nuclear liability which are already in force.
Image Credit: slideshare.net
Post Contributed By:
Ashish Ransom
Indian Institute of legal Studies
Comments
comments