Impact of WTO Agreement on Indian Agriculture
Agriculture is the oldest culture in the entire human civilisation. The history of Agriculture in India can be trace back to ten thousand years. The WTO is the successor of General Agreement on Tariff and Trade (GATT) which was established in 1947. GATT held a total of eight rounds. WTO Agreement on Agriculture known as "International Treaty" was one of the main agreement which were negotiated during Uruguay Round and total 123 countries participated. The objectives of WTO laws are – promoting free and liberal trade. But there was rampant misuse of this concept. The exporting countries started dumping their products in the importing countries, resulted a serious threat to the economy of developing countries especially to the agriculture of India.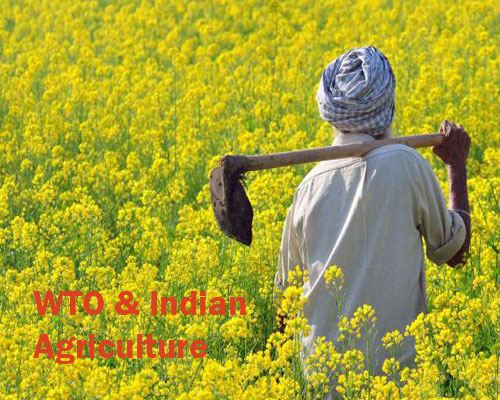 With the coming of WTO, the Indian Economy has undergone a tremendous change. The WTO Agreement on Agriculture has great impact on Indian Agriculture, which was really felt by India several times. The Competative Agricultural Markets (CAM) was not correct. Agricultural exports was dominated by few large MNCs and trading agents. The cheap imports have frequently hit the Indian markets, causing shock waves among the agricultural producers. The later effects of WTO policies were undemocratic because of the lack of transparency during negotiations. There are other factors as well for the low productivity in India. Excepting in the rice market, India is negligible force in global market
The WTO Agreement on agriculture has both negative and positive impacts on Agriculture of India. About 70% of Indian people depends on agriculture, so overall export – import of agricultural commodities are directly or indirectly depends upon WTO Laws. Therefore, WTO Norms plays vital role in upliftment of socio-economic conditions of rural population in India. In fact, WTO Laws directly or indirectly affects the Indian economy.
Image Source: google.com/images
Post Contributed By:
Laxmi Khawas
Indian Institute of Legal Studies
Comments
comments