The Rule of Law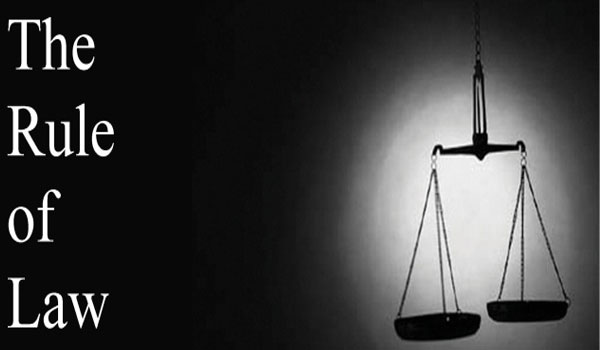 Everything must be done according to law. It controls the discretionary power of the Government that everything it does should within the law. Rule of law has become basic structure of the constitution. Supreme Court in many judgements had laid down.
In the begging of the common law, two principles emerged –
King can do no wrong.
King was source of justice.
Law is the king of kings which was first emerged in common law in thirteenth century. Brackton  for the first time said- " Law is the king of Kings and king is subject to law". Thereafter, Lord Coke established rule of law in England later. In judgement he wrote this phrase therefore he was dismissed from Chief Justice. In English Common Law Coke is regarded as founder of Rule of Law.
Dicey's proposition came much later in 1885, he stressed more on arbitrariness more than Rule of Law. He faced many criticisms than the merits of Rule of Law.
There are three propositions of Dicey-
Absence of discretion.
Absence of exceptions ( all persons subjected to ordinary court of law)
Supremacy of Common Law.
These were not true during Dicey's time. Whatever he laid down could not prove even during his lifetime.
Firstly, Dicey was against conquering discretion.
Secondly, regarding exceptions there were more exceptions, Crown's Immunity was abolished in 1949.
Thirdly, by the time parliament was well established u/d English legal system. Any law is enacted in parliament. No Supremacy of Common Law rather Parliamentary Supremacy was established.
Image Source: google.com/images
Post Contributed By:
Laxmi Khawas
Indian Institute of Legal Studies
Comments
comments