Punishment/ Reform or Rehabilitation?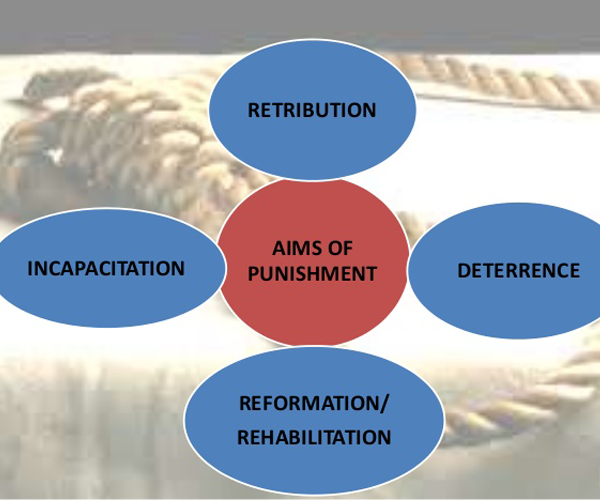 Image Source: slideshare.net
According to the legal system in India, the Juvenile in conflict with law, as per the Juvenile Justice (Care and Protection of Children) Act, 2002 are not segregated on the basis of their crime that they have committed in order to procure punishment. The maximum period of punishment prescribed is a period of three years under observation home for severe offences like murder. After the completion of three years the juvenile in conflict with law cannot be restrained or confined in at such observation home nor can they be tried separately in case they have attained the age of majority during that period for the same cause of action. As per the Juvenile Justice Act, it restrains the Juveniles to be kept on regular prison, to avoid such juveniles from turning into real criminals because of their susceptible minds. But then it is a matter of query that if it is their association with criminals that leads them prone to commit crime then why is it so that they commit a crime even before being sent to the custody, when they were in the company of ordinary people without any general criminal intention? It is a matter of research as to, in what way, their association with criminals takes an upper hand for them in becoming professional criminals.
The Act as I discussed prescribes just detention under observation homes but it is seen that some of the juveniles in conflict with law are lodged to prisons with regular criminals. This is based on the presumption that a juvenile in conflict with law still has hopes for reformation and rehabilitation for leading a normal life unlike other criminals.
Issues relating to age often serve as the source of controversy whenever a juvenile is being tried. Even though as per the Juvenile Justice Rules of 2007 provides certain procedures to pursue for evaluating the particular age of the offender, it further allows a surplus of one year for those juveniles whose age cannot be resolute. This factor would provide a hike of time period for a juvenile in conflict with law to be treated as minor who in turn adversely affects the society and the spirit of the victim who has been seeking justice. This is so because this type of grant allows the juvenile in conflict with law, increased time to be free from the fallout of his/her breach of law. The person most affected are the victims of the crimes since neither call they hope for compensation nor will they be able to cast their confidence in the justice delivery system nor will they be able to assure that the offender has absolutely reformed. This is particularly so in cases of juveniles who fall under the marginal cases. The children detained during the developmental years i.e. between 12 – 17 years may withstand reform but how about the juveniles who fall under the age between 17- 18 years? Will they be sufficiently reformed to be released with a faith that they would be leading a normal life without talking recourse into crime? And if in case their trial has not been completed before reaching the age of being an adult than how are they supposed to be treated, rather in which context should they be treated as a child? Should they not be treated as an adult and be punished? Or should there be laws to make them undergo punishment as any other adult once they reach the age of majority for the remaining span of time? It is the Juvenile Justice Board that could ascertain whether such remedy was to be carried out repeatedly after the detention under observation home or whether it should be suspended for further review upon if the juvenile repeats the crime or upon successive violation of law based on the gravity of the crime committed.
Another way to punish the marginal offenders who have committed atrocious crimes, as an adult, could have committed, the release of such offenders should be subject to showing good conduct or by completion of their full term.
The Juvenile Justice Act, provides for the expulsion of any disqualification adhere to a child from its records after reaching the age of majority and for those who fall under the borderline cases who cease to be a child during the course of the trial, would be difficult to ascertain and on what basis there should be an end to the record and the reason as to why? At least in instances where the crimes are severe the records should be maintained so that legitimate people of the society do not fall casualty to any future criminal activities by these individuals.
Comments
comments