BICAMERAL LEGISLATURE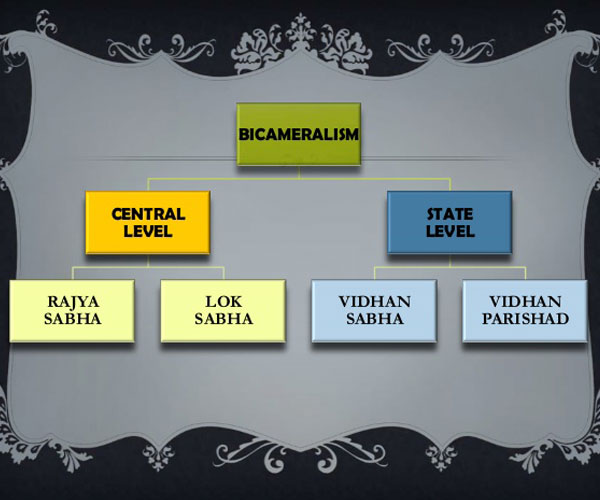 Image Source: slideshare.net
The Council of States is the Upper House of India's bicameral Parliament. The adoption of bicameral legislature for the Union of India is guided by three sets of reasons. First, Rajya Sabha as the name implies, was to be chamber for representing and protecting the rights of the states in a federal policy. Rajya Sabha, therefore, has equal role and status to that of the Lok Sabha in the Electoral College for choosing the president. Members of State legislative assemblies elect Rajya Sabha representatives for their States on a proportional representation system. In the event of a deadlock between the two Houses of Parliament, for example, if reconsideration of a bill fails to achieve a mutually satisfactory resolution, then the president can convene a joint sitting of both the Houses.
The second purpose of establishing a bicameral legislature was to provide an institutional opportunity for second thoughts and a wiser counsel even after the passage of a bill by the Lok Sabha. This largely depends on the party composition in both the Houses.
The third function of Rajya Sabha in the Indian system of governance is to enable a bill to be introduced in the Parliament even when the Lok Sabha is not in session. Much of the Parliamentary debate and work on the bill can be completed by the time the Lok Sabha reconvenes. In respect of certain specified federal features of the Constitution, the primary amending role has been given to the Rajya Sabha as the custodian of State rights.
Comments
comments