SARFAESI ACT, 2002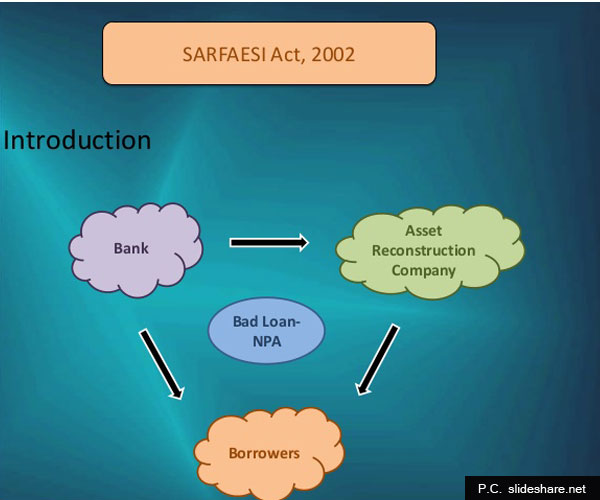 SARFAESI Act stands for Securitisation and Reconstruction of Financial Assets and Enforcement of Security Interest Act, 2002. Banks use this act as a tool for recovery of bad loans. Upon loan default, banks can seize the securities (except agricultural land) without intervention of the court.
SARFAESI is effective only for secured loans where bank can enforce the underlying security. In such cases, court intervention is not necessary, unless the security is invalid or fraudulent.
Banks can give a notice in writing to the defaulting borrower requiring it to discharge its liabilities within 60 days. If the borrower fails to comply with the notice, the Bank may take recourse to one or more of the following measures:
Take possession of the security for the loan Sale or lease or assign the right over the security.
Manage the same or appoint any person to manage the same
The SARFAESI Act also provides for the establishment of Asset Reconstruction Companies (ARCs) regulated by RBI to acquire assets from banks and financial institutions. The Act provides for sale of financial assets by banks and financial institutions to asset reconstruction companies (ARCs).
The previous legislation enacted for recovery of the default loans was Recovery of Debts due to Banks and Financial institutions Act, 1993. This act had created the forums such as Debt Recovery Tribunals and Debt Recovery Appellate Tribunals for speedy adjudication of disputes with regard to ever increasing non-recovered dues. However, there were several loopholes in the act. This led to the introspection of the Act by the government and thus another committee under Mr. Andhyarujina was appointed to examine banking sector reforms and to consider the  changes in the legal system. This committee recommended to enact a new legislation for the establishment of securitisation and reconstruction companies and to empower the banks and financial institutions to take possession of the Non performing assets. Thus, Sarfaesi act, came into existence.
Comments
comments