HISTORY OF GST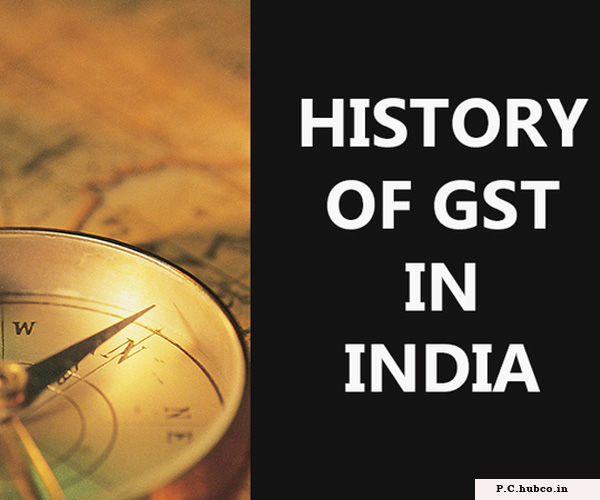 Goods and Services Tax (GST), India's biggest tax reform in 70 years of independence, was finally launched on the midnight of 30 June 2017 and was introduced as The Constitution (One Hundred and First Amendment) Act 2017, following the passage of Constitution 122nd Amendment Bill, governed by a GST Council and its Chairman, the Finance Minister of India.
In the year 1999 during a meeting between the then Prime Minister Atal Bihari Vajpayee and his economic advisory panel, which included three former RBI governors IG Patel, Bimal Jalan and C Rangarajan a single common GST (Goods and Services tax) was proposed and given a go ahead. Thereafter Vajpayee set up a committee headed by the then finance minister of West Bengal, Asim Dasgupta to design a GST model.
The Ravi Dasgupta committee was also tasked with putting in place the backend technology and logistics (later came to be known as GSTN in 2017) for rolling out a uniform taxation regime in the country. The Vajpayee government also formed a task force under Vijay Kelkar to recommend tax reforms in the year 2003 and than in 2005 the Kelkar committee recommended rolling out GST as suggested by the 12th Finance Commission.[9]
Even after the fall of the BJP led NDA government in 2004, and the election of a Congress led UPA government, the new Finance Minister P Chidambaram in February 2006 continued to work on the same and proposed a GST rollout by 1 April 2010. However in 2010, with the Trinamool Congress routing CPI(M) out of power in West Bengal, Asim Dasgupta resigned as the head of the GST committee.
In the year 2014, the NDA government was re-elected and came in power under the leadership of Narendra Modi. This led to the consequential dissolution of the 15th Lok Sabha resulting in the lapse of GST Bill – approved by the standing committee for reintroduction. Seven months after the formation of the Modi government, the new Finance Minister Arun Jaitley introduced the GST Bill in the Lok Sabha, where the BJP had a majority. In February 2015, Jaitley set another deadline of 1 April 2016 to implement GST. I May 2015, the Lok Sabha passed the Constitution Amendment Bill, paving way for GST. However, the Opposition, led by the Congress demanded that the GST Bill be again sent back to the Select Committee of the Rajya Sabha due to disagreements on several statements in the Bill relating to taxation. Finally in August 2016, the Amendment Bill was passed. Over the next 15 to 20 days, 18 states ratified the GST Bill and the President Pranab Mukherjee gave his assent to it.
Comments
comments